Flipbooks as Offset Prints:
Printed flipbooks cost 20 euro. They come in a card box painted white. The stories are included in the back pages.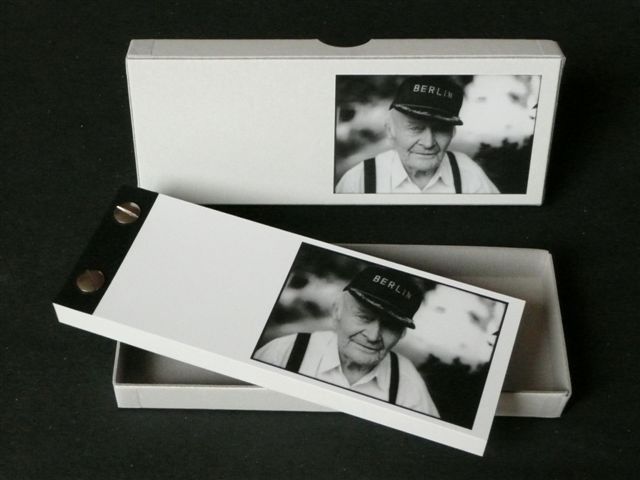 The following flipbooks are available

:

- Man by the Tracks, Vancouver, 2011
- Boy by a Canal, Münster, 2006
- Girl with Freckles, Zürich, 2003
- Woman with a Scarf, Am Rhein, 2008
- Family in the Garden, Gut Bockerode, 2006
- Old Man with a Tie, Unterstedt, 2009
- Buildings and Street, Berlin, 2002
- People and Pictures, Berlin, 2003
- Girl with Long and then Short Hair, Jena, 2003
- Woman with Eyes Closed, Berlin, 2003
- Woman on a Barstool, Halle/Saale, 2005
- Cathedral and Moon, Berlin, 2002


-

View from My Window, Berlin, 2004 - 2005
- Gentlemen's Lavatory, Berlin, 2005



-

Old Man with a Baseball Cap, Berlin, 2003
SOLD OUT AT THE MOMENT. WILL BE REPRINTED IN JULY.



Books (in German):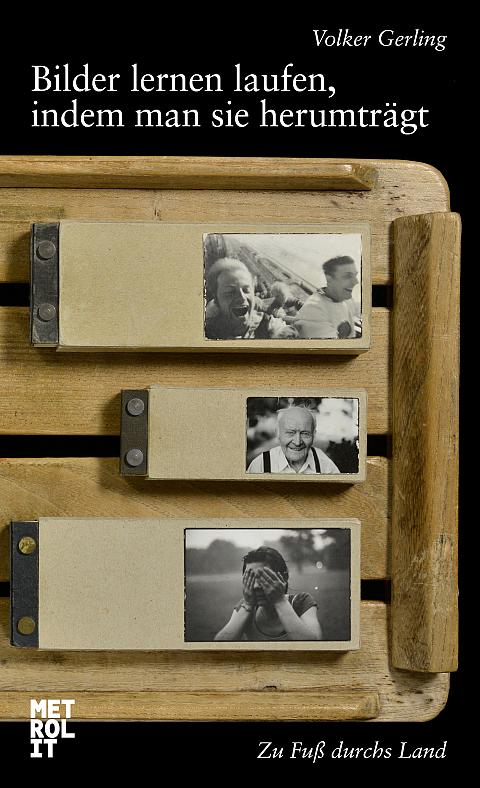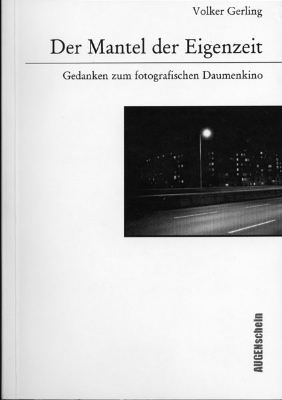 "Bilder lernen laufen, indem man sie herumträgt", (Pictures Learn to Walk when You Carry Them Around), the story of my first walk, published by Metrolit Verlag. 18.99 euro.


"Der Mantel der Eigenzeit - Gedanken zum fotografischen Daumenkino" (Under Your Own Time – Thoughts on Flipbook Movies), published privately. 15 euro.


How to buy flipbooks and books:

I am sorry, but currently you can buy flipbooks and books exclusive after my shows. Please send me an email if you have any questions. Thank you!
Original Flipbooks:
These flipbooks are made with hand-made prints on matte Baryta paper. They are limited, numbered and signed editions of twelve or thirty-six flipbooks and cost between € 750 and € 1250 (plus 7% sales tax). These flipbooks are delivered in an embossed slipcase.


Further information under: volker@daumenkinographie.de


All prices include 7% sales tax unless otherwise indicated.